GameSir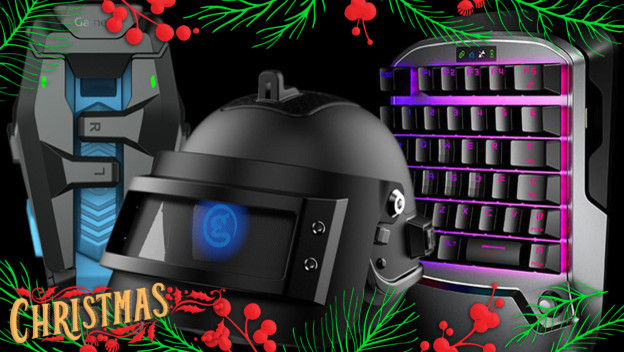 A relatively new company out of China, GameSir has embarked on a mission to tackle the gaming peripheral market with devices that are both practical and extremely flashy. The following three products, all of which are new for 2019, will definitely be turning heads in community gaming spaces.
First up is the F4 Falcon Mobile Gaming Controller. This thing looks like a prop from a Marvel movie, but is actually a device built to add precision to touch-based mobile games. Shaped like a bird, the F4 Falcon wraps around your phone and uses trigger-like buttons to activate haptic touch buttons in games like PUBG. You can fold it back up, at which point it turns into a gamer coffin instead of a bird. It also has a selector switch that alters the Falcon's pressing speed, which is particularly handy for PUBG.
Speaking of PUBG, there's also the GB98K Wireless Bluetooth Speaker. Not only is it a high-quality and very portable speaker, it's also made to look like an old Soviet helmet, such as those featured in PUBG. It's the most intense speaker you'll ever see. It uses a vibrating diaphragm to make sounds and produce bass so big for a small device, and it even features a hanging hole so you can perch it almost anywhere you want. As an added bonus, the inside of the "helmet" featured a RGB-lit GameSir logo, which pulses and changes color based on whatever music is playing.
Finally, there's the VX2 AimSwitch Gaming Keypad. This keypad stylishly includes only the keys you'll need for gaming, complemented by a joystick that rests just within thumb reach for extra functionality. GameSir claims the AimSwitch's mechanical keys and Agility X wireless tech allow for 1ms input latency and a 1000Hz polling rate. It also supports Bluetooth and wireless headsets.