KontrolFreek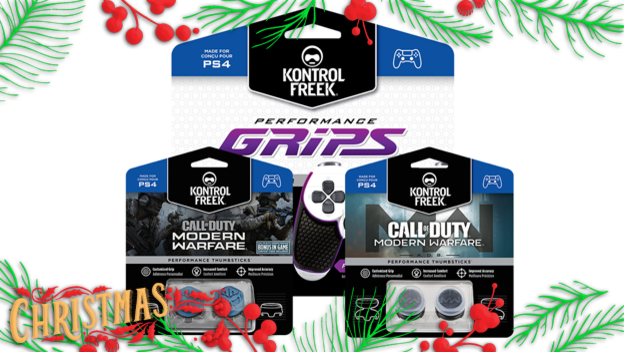 Customization is an important quality for many gamers out there. It's why so many video games feature customizable characters, toolkits, and vehicles. It's also why companies give gamers a vast choice of color when it comes to controller choices.
With KontrolFreek, you can help the gamer in your life meet their customization needs while also adding to their comfort and performance, thanks to the Call of Duty Modern Warfare Performance Thumbsticks. These officially licensed grips attach to the analog sticks of a PlayStation 4 or Xbox One controller and are meant to help with both accuracy and comfort. Beyond that, they look pretty damn cool. Also included in the package is a bonus code for the Wheelson Calling Card in-game content.
The grips feature a convex design and add a bit of extra height to the thumbstick. The "unique hex design" also expands the surface area of the grip which is meant to add to the comfort factor.
But if that's not enough comfort, KontrolFreek also sells something called KontrolFreek Performance Grips. These are made of moisture-wicking materials to assist gamers with long gaming sessions. These grips slip right onto the sides of the controller to offer additional support for those intense gaming sessions. They come in a variety of options too, including extra-thin and extra-padded models. There are even grips for controller triggers, keyboards and computer mice so it won't be hard to shop, no matter what kind of gamer you're buying for. Or, heck, even if you're buying for yourself, it'll be nice to have options.
If there's any hesitance when you're going to make a decision, you might feel at ease to know that KontrolFreek also offers a 30-day money back satisfaction guarantee for its products. That's important, because I realize that grips like these aren't something that everybody has tried in any capacity, regardless of brand. These products are, as claimed on the website, trusted by the pros and, beyond that, very affordable.