MEATER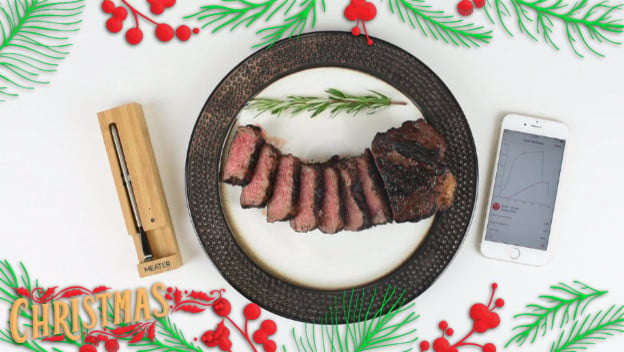 Most smart technology is developed to make life easier. Most of the time it's little things, like operating lights, voice-operated software, and generally controlling in-home devices wirelessly. But some smart technology is more directly involved with more complicated processes--in this case, cooking. Traditionally, cooking involves a lot of judgment, guesswork, memorization, and practice. Some or all of these can be real challenges for some people for various reasons. And when it comes to cooking meat, where safety is a legitimate factor, it can be discouraging to even try. MEATER, a smart thermometer, aims to help close that gap.
You may not be a professional chef, but MEATER will help you prepare your meat exactly the way you want it. MEATER comes in several parts, depending on the configuration you purchase. At a base level, you insert the wireless probe into your meat and leave it in there. With the app, you set the kind of meat, the cut, and how you want to cook it. The app then provides a time estimate for the cook and monitors the temperature via Bluetooth.
Depending on your setup, which can include the MEATER+ Signal repeater or WiFi block, you can monitor your cook from varying distances. You can use the MEATER Cloud to keep tabs on your meat wherever you have an internet connection and get tech support as well.