Accell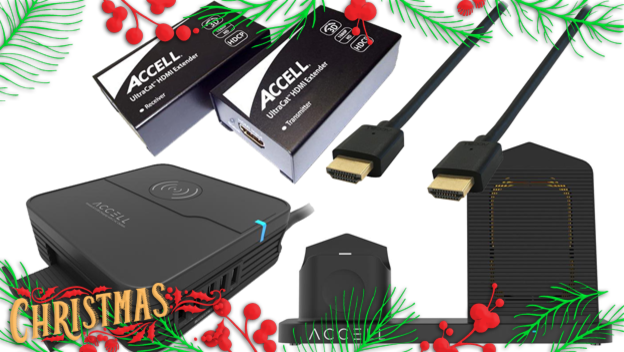 It can be tough to ask people for gifts when you're dialed into the tech world. After all, you probably already have everything you need, and you've preordered everything you want. So when your mom/sibling/uncle/penpal hits you up on social media asking you for a list, what do you do? Well, you can always upgrade to the latest pieces of utility. Accell has several new products it's pushing, two in the wireless charging department, and two that are more about making the most of your HDMI situation.
First, let's talk charging. You have two new options: the 3 in 1 fast Wireless Charger and the Accell Power Wireless Charge Pad. The 3 in 1 is a handy solution for those with the latest in Apple hardware. If you have a phone, Airpods, and an Apple watch, keeping all three charged can be a pain. But with this handy dock, you can take care of them all at once. Not only does this dock keep all your stuff neat and powered up, it also has a double coil design for the larger piece that allows multiple placement options for your phone. Combined with a cooling fan, this lets you comfortably charge and use your device at the same time.
The Accell Power is a behemoth of a charging station, featuring five different styles of input. With this one device, you can access wireless charging, multiple USB configurations optimized for different devices, and even a couple of standard 110V AC outlets.
Trying to set up a media station but want to move your devices around freely? Try the UltraCat HDMI to Single Cat5e Extenders. With this contraption, you can send a 1080p signal up to 164 feet. And if you're looking to go beyond 1080p, you can pick up one of Accell's ProUltra Supreme HDMI cables, which use Ethernet to support 8K and 10K resolution with low latency and high fidelity.