PowerA Accessories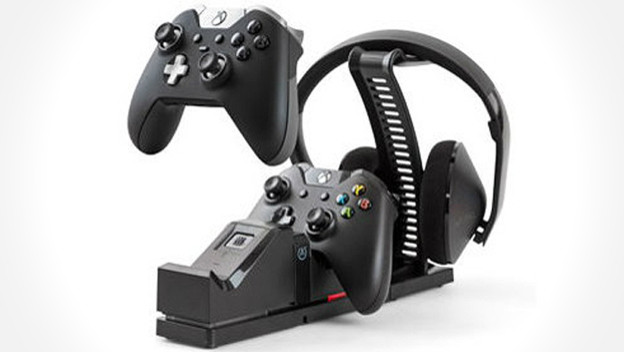 We're all gamers here! Which means that we all know you need more than just a console, one controller, and a few games. You sometimes have to have certain sorts of accessories too. Which is why you might turn to a third-party company like PowerA to get some cool, handy, and sometimes even affordable peripherals.
For example, an Xbox One owner might want to go with the officially licensed Spectra Illuminated Controller for their system. It's $39.99, cheaper than a standard controller, and allows you to have a wired USB controller with rumble effects, 225 color combination options for its illumination effects, and plug your 3.5mm headset into the built-in audio jack.
PowerA also gives people options when charging up your official controllers, in case you like Microsoft's wireless options. There is a Play & Charge Kit that is $24.99 and gives you two charge-through battery doors for official Xbox One controllers, a 9.8 foot USB charging cable, and two battery packs. You can plug it in or just swap packs as needed. And, if you have the Complete Charging Station for $39.99, you have the ability t drop, click, and charge up to controllers and one other USB peripheral at once, with an LED light bar showing the progress. It even comes with two universal charge-through battery doors and battery packs.
But what if you went with a Nintendo Switch instead of an Xbox One? Well, PowerA has controller options there too. The $49.99 Mario Silhouette Nintendo Switch controller is a translucent red controller with Mario's shadow on it that connects wirelessly to your console. It even has motion controls, for games like Super Mario Odyssey. LEDs let you know if the AA batteries need replacing, and it gives you another option for when you play.
Or, if you plan to settle it in Smash with Super Smash Bros. Ultimate, maybe consider the purple Wired GameCube Controller designed especially for the Nintendo Switch. It has the familiar GameCube layout, but with a 10ft USB cable that connects to your Nintendo Switch. It's only $24.99 and, while people will probably use it with Smash, it does work with all Nintendo Switch games.
Need to carry all your accessories everywhere? Well, PowerA has a bag for it. It's the $34.99 Everywhere Messenger Bag with Super Mario Bros. on it. It has a slim case for the Switch, a zippered back pocket, a rubberized handle, a padded shoulder strap, and both overworld and underworld Mario designs!