Creative Sound BlasterX G6, Sound Blaster K3+, and Stage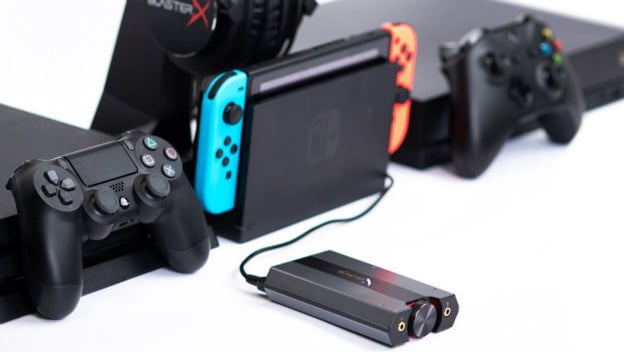 If someone really wants to get the best sound out of their systems and consoles, perhaps for streaming purposes even, it might be time to start looking into Creative products They have soundboards and sound cards that can help make everything sound better. The Sound BlasterX G6 is an external USB sound card and headphone amplifier that works with the PlayStation 4, Nintendo Switch, Xbox One, and PC. It improves your sound quality without getting an actual internal sound card, using its 7.1 USB Digital Audio Converter, Dolby Digital Decoding, and Xamp headphone amplifier to make your games and you sound better. This $149.99 device plugs in, lets you adjust levels directly on it, and offers distortion-free audio. It even has a Scout Mode that amplifies sounds like footsteps, which might give you an edge in shooters or horror games!
Meanwhile, the Sound Blaster K3+ is designed to help PC and mobile device users who want better audio processing. This $129.99 device helps you with your recording and streaming, letting you adjust the audio levels in front of you, adjust effects, adjust the bass and treble, handle volume from different inputs, work on reverb, and choose from six built-in sound effects. Its six scenarios are ready for gaming, recording, karaoke, acting as a DJ, and handling other important tasks.
Also, if you need a better sound system for your games, you could turn to one of Creative's Stage Soundbars. The Stage Air is a $39.99 affordable model. It fits under your monitor, has six hours of battery life, and offers Bluetooth 4.2 to connect with your devices. For people who want a little more, the $79.99 Stage gives you a soundbar and subwoofer to really surround yourself with sound by connecting to your Bluetooth 2.1 compatible devices. Of course, both also come with 3.5mm stereo to stereo cables and guarantee the best possible sound.